ZDXP 2019+
In 2019 I will begin a new adventure involving the relaunch of my Youtube Channel that will be evolving & updating certain aspects "The Zero Dean Experience" (ZDXP).
ZDXP 2010-2012
ZDXP was a social media experiment in which I invited people from all over the world to be directly involved with my adventures as I crisscrossed the United States on an epic road trip covering over 60,000 miles.
My adventure was many things: A travel documentary, a photo journal, a real-life interactive adventure, and an opportunity to pursue my passions while intentionally living beyond comfort. With an emphasis on real-life situations and interaction with followers via social media, ZDXP was touted as an "Internet Reality Experience".
ZDXP allowed people from all over the world to be directly involved in my adventures by having them suggest places for me to go, things to do, foods to eat, and people to meet. I also accepted invitations, challenges, and requests as I traveled.
At its core, ZDXP was simply one man's passionate journey beyond his comfort zone in search of love, adventure, and stories to tell.
The Choose-My-Adventure Project
The Choose-My-Adventure Project encouraged followers to play an active role in my adventure — deciding where I would go, what I would do, and who I would meet.
Giving people the opportunity to make decisions for me pushed me to do things and go places that I wouldn't necessarily choose on my own — this ensured that I had new and unusual experience and didn't just stay in my comfort zone.
Additionally, it allowed me to connect with people by providing them with a meaningful experience and letting them live vicariously through my actions. All the while, I relayed the experience in writing, photography, and videos.
I fulfilled dozens of requests and challenges (see examples at the bottom of this page) while traveling through dozens of states coast-to-coast. It was a truly amazing experience.
Project Highlights:
Live interactive video broadcasts while on location.
Real-time GPS tracking.
Prizes & giveaways while at various locations – including souvenirs and travel mascots.
Live "quick polls" — which are choose-my-adventure/decision making done while on location.
Audience participation challenges (photo contests, caption contests, etc).
ZDXP group meet-ups in various cities.
Photo scavenger hunts.
Dozens of challenges fulfilled across the country.
Tours of Facebook, Pixar, Industrial Light + Magic, Dreamworks, and more.
Videos
ZDXP Road Trip 2
ZDXP Road Trip
The Invitation Video
Press
Map of my travels (ZDXP)
Note: this map doesn't represent all stops, just major ones. Also, you can view some of my photography from my journey in on 500px.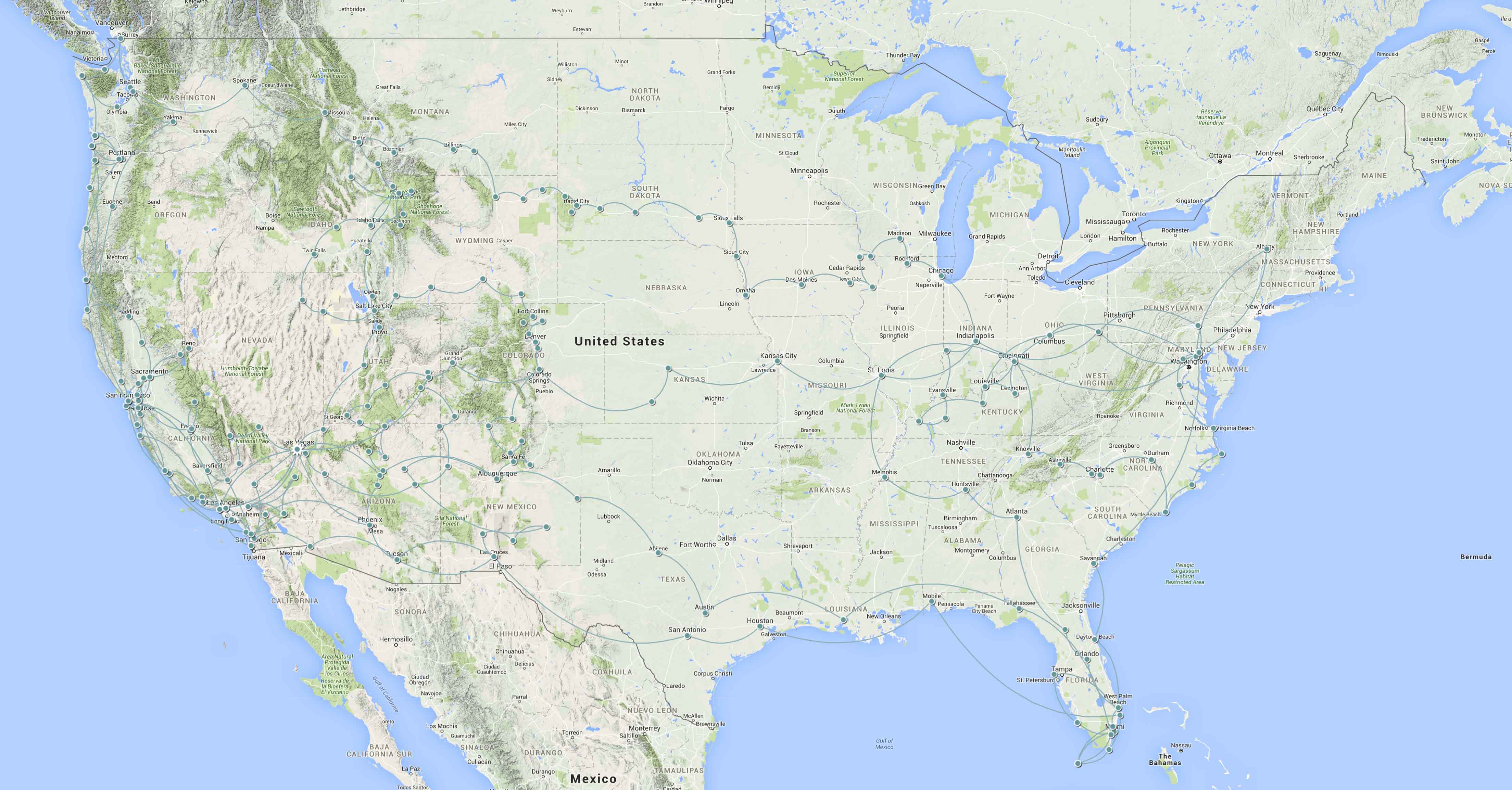 Some of the challenges & requests I fulfilled
ARIZONA
Visit Old Tuscon Movie Studios – Tuscon, AZ
Visit the International Wildlife Museum – Tuscon, AZ
Be in Yuma at 3:10 – Yuma, AZ
Visit Petrified Forest National Park
Visit the Grand Canyon National Park
Visit Sedona – Sedona, AZ
Visit Tombstone – Tombstone, AZ
Visit the Tombstone Graveyard
Visit Barrios Brewing – Tucson, AZ
Top a glass of beer with whipped cream
Visit Sunset Crater National Monument – Flagstaff, AZ
Take a ride along Route 66
Go through Portal – Portal, AZ
CALIFORNIA
Meet a Mythbuster challenge – San Francisco, CA
Rice-a-Roni on a trolley challenge – San Francisco, CA
Tour Pixar Animation Studios
Tour Industrial Light & Magic
Tour Tippett Studio
Tour Dreamworks Animation
Tour Facebook HQ
Golden Monkey challenge – Redding, CA
Hug a giant redwood challenge – Redwood National Park, CA
Eat at The Hamburger Factory – Poway, CA
Visit Yosemite National Park – Yosemite National Park, CA
Visit Sequoia National Park – Sequoia National Park, CA
Visit the Mojave Air & Spaceport – Mojave, CA
Visit the Rhyolite ghost town – Rhyolite, CA
Visit Death Valley National Park – Death Valley, CA
Find jade in Jade Cove – Big Sur, CA
Eat fried pickles at Hooters – San Diego, CA
Visit Mojave National Preserve
Do Zero vs. Food at Lucha Libre Taco Shop – San Diego, CA
Eat a Hearst burger at Linn's Easy as Pie Cafe – Cambria, CA
Visit Jon & Bon's Yogurt Shoppe – Chico, CA
Visit Bidwell Park – Chico, CA
Visit the birds at Luzonica.org – Ojai, CA
Visit a town with a population of 18 – Harmony, CA
Pay respects at the Donner Pass Memorial – Donner Pass, CA
Tour Rhythm & Hues – Los Angeles, CA
Tour Zoic – Los Angeles, CA
Corn Dog Challenge – Huntington Beach, CA
COLORADO
Eat at Pete's Kitchen – Denver, CO
Volunteer at Denkai Sanctuary with kids from Reflections for Youth
Visit the Real Pirates exhibit – Denver, CO
Visit the Garden of the Gods – Colorado Springs, CO
Visit Boulder
Visit Outside Adventure Film School – Boulder, CO
Summit a Flat Iron – Boulder, CO
Talk to the "creepy guy" in Panera Bread last seen 5 months in Las Vegas – Boulder, CO
Attend a presentation by Ryan Van Duzer & Jeff Evans at REI – Boulder, CO
Get a Golden ticket – Golden, CO
Take LOVE to the Four Corners – AZ, CO, NM, UT
Visit Mesa Verde National Park – Mesa Verde, CO
FLORIDA
Visit Key West – Key West, FL
Visit the Butterfly Conservatory – Key West, FL
Take a photo with the giant lobster at Rain Barrel – Islamorada, FL
GEORGIA
Think about Georgia in Georgia
ILLINOIS
Visit Metropolis – Metropolis, IL
Visit the Super Museum – Metropolis, I'LL
Eat authentic Chicago deep dish pizza
Eat an authentic Chicago hot dog
Visit Lincoln Park Zoo
IOWA
Visit the Field of Dreams – Dyersville, IA
Walk across the RAGBRAI finish line – Dubuque, IA
Reverse engineer a Happy Joe's taco pizza – Davenport, IA
KENTUCKY
Visit Louisville – Louisville, KY
Visit Lexington – Lexington, KY
Attend the "world's largest picnic" – Fancy Farm, KY
MARYLAND
Take a pirate ship cruise with Urban Pirates – Baltimore, MD
MONTANA
Visit Butte – Butte, MT
Visit Little Bighorn National Monument
NEVADA
Visit Reno – Reno, NV
Attend the Reno Trashion Show – Reno, NV
Visit the Hoover Dam – Boulder City, NV
Visit the world's tallest thermometer – Baker, NV
Eat something mesquite flavored in Mesquite – Mesquite, NV
NEW MEXICO
Albuquerque
Visit Petroglyph National Monument – Albuquerque, NM
Take a left turn in Albuquerque – Albuquerque, NM
Eat a Disaster Burrito at Hurricane's Restaurant & Drive-In – Albuquerque, NM
Visit Page One Too – Albuquerque, NM
Eat at Route 66 Diner – Albuquerque, NM
Play Truth or Dare in Truth or Consequences – Truth or Consequences, NM
Visit the New Mexico Spaceport – Obscure location, New Mexico
Visit Roswell, New Mexico – Roswell, NM
Visit the UFO Museum – Roswell, NM
Visit Las Vegas, NM – Las Vegas, NM
Visit the set of a movie – Las Vegas, NM
Visit Dulce, NM – Dulce, NM
Visit White Sands National Monument
Go sledding in White Sands National Monument
Eat at world famous Sparky's Barbeque – Hatch, NM
Visit Cuba – Cuba, NM
Relax & make it a movie night – Las Cruces, NM
Visit the Rio Grand Gorge Bridge – Taos, NM
NORTH CAROLINA
Visit the Wright Brothers National Memorial – Outer Banks, NC
OHIO
Visit the Field of Corn
Take a stroll down "Memory Lane" (literally)
OREGON
Take a tour of the Tillamook Cheese Factory – Tillamook, OR
Eat Tillamook Beef Jerky – Tillamook, OR
Visit the Tillamook Air Museum
Visit Cannon Beach – Cannon Beach, OR
Eat a Baby Ruth bar on the Goonies beach
Visit Astoria – Astoria, OR
Climb the Astoria Column – Astoria, OR
Visit the Oregon Caves National Monument
Visit the It's a Burl Gallery
Visit the Jeff Gogue Gallery – Grants Pass, OR
Visit the Caveman statue – Grants Pass, OR
SOUTH CAROLINA
Visit South of the Border – Dillon, SC
SOUTH DAKOTA
Visit Rapid City – Rapid City, SD
Visit Dinosaur Park – Rapid City, SD
Visit Wall Drug – Wall, SD
Visit Mount Rushmore National Memorial
Visit the Corn Palace – Mitchell, SD
UTAH
Visit Moab – Moab, UT
Visit Arches National Park – Moab, UT
Visit Canyonlands National Park – Moab, UT
Visit Bryce Canyon National Park – Bryce Canyon, UT
Hike Bryce Canyon – Bryce Canyon, UT
Visit Zion National Park – Zion National Park, UT
Visit Eccles Dinosaur Park – Ogden, UT
Drive the 0Runner on the Salt Flats – Bonneville, UT
WASHINGTON
Drink Seattle's Best in Seattle – Seattle, WA
Visit the center of the universe – Fremont, Seattle
Visit Dusty Strings – Fremont, Seattle
Visit Olympic National Park
Visit Hoh Rainforest
Visit Ruby Beach
Visit Forks – Forks, WA
Get a photo of Bella Italia in Port Angeles – Port Angeles, WA
WYOMING
Visit Jackson – Jackson, WY
Visit Yellowstone National Park
Watch Old Faithful erupt
Swim in the Firehole River
Visit Devil's Tower National Monument
Visit Grand Teton National Park
Eat at an all-you-can-eat sushi buffet – Gillette, WY
Sneak into a water park – Gillette, WY