Current status: 
I'm currently on tour across the United States shooting a video documentary series (and podcast). For more information about The Lessons Learned From The Path Less Traveled Project, visit FTPLT.com. And if you'd like to meet-up — for any reason — while I travel, be sure to get it in touch.
Map updated: November 12, 2019 — Blue: Heading East and North — Purple: Heading South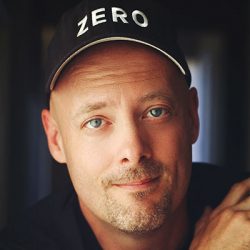 "Not everyone will understand your journey. That's fine. It's not their journey to make sense of. It's yours." — Zero Dean
What are you supposed to do when you realize the life you have no longer fits the life you want? 
I don't know. Because what works best for one person doesn't necessarily work best for another. I can, however, tell you what I did.
TEN YEARS AGO, I quit my job, terminated my lease, and sold everything that wouldn't fit in my car. And this was only the beginning. A short time later, I began a multi-faceted project incorporating five of the things I was most passionate about pursuing at the time: writing, photography, travel, adventure, and connecting with people in a meaningful way.
This project — which would become known as "ZDXP" — would lead me to become the protagonist in a real-life choose-your-own-adventure where the internet would tell me where to go and what to do when I got there. I spent nearly 2 years criss-crossing the United States on an epic road trip covering over 60,000 miles.
It was supposed to be fun —
— and some of it was — but it was also far more challenging than I ever expected in ways that I could never have anticipated. It changed my life, my relationships, and my view of the world. In short, it changed everything.
When my cross country travels finally came to an end, my journey along the path less traveled continued. And it did so in ways I didn't expect. Because, when it comes down to it, life is a journey. And when you take the path less traveled, you are far less likely to know what you'll get than you will by following the footsteps of others. But one thing you can almost be certain of, the challenges you face beyond your comfort zone will trigger personal growth beyond anything a person typically experiences living in the confines of comfort.
Since embarking on a journey along the path less traveled in 2010, I've been using real-life experiences as a foundation for learning and then sharing what I learn with others.
Some nice things people have said over the course of my journey…
"You make me smile every day Zero! How I even became a Facebook friend I don't even know. But in my opinion I so need your wit and humor every day. That said, thank you for being so awesome!" -- Vickie
In December 2018, I published my first book.
It's called Lessons Learned from The Path Less Traveled Volume 1.  You can read about it on my book information page — or if you're feeling adventurous, you can check it out on Amazon.
My book features approximately 400 lessons for men and women of all ages from all walks of life. This video features some nice things people have said about it.
You may have already read some of my work.
In the decade that I've been sharing excerpts of lessons online, a number of them have gone viral – reaching a global audience in the tens of millions (often without attribution). Because of this, many of my most viral pieces have been plagiarized or mistakenly attributed to other authors like Paulo Coelho.
Thanks to celebrities like Elizabeth Gilbert, Tommy Chong, and others my work has been shared with an audience of millions. In 2015, in the span of just a couple months, my "Not everyone will understand your journey" quote was shared with over 30 million people on Facebook alone (sadly, without attribution).
I took an extended break from social media for a few years & deleted my facebook page with 45,000 followers, but started a new one in 2019.
But what I'm most excited about is producing video content for my YouTube channel starting in late August, 2019.
Something is wrong.

Instagram token error.