Hi, my name is Zero (really). I'm the author of the Lessons Learned from The Path Less Traveled™ series. Some of the work I've written over the past eight+ years has been shared with millions of people across the internet, so it'seentirely possible that you've already read some of it — although you might not know it since it doesn't always have my name attached.
…
Formerly a computer graphics artist at Rockstar Games — I began a unique & multi-faceted journey beyond my comfort zone in 2010. It is from this journey that I use real-life experiences as a foundation for learning and sharing life's lessons.
---
My story in brief:
In 2009, during the height of the global financial crisis, I quit my job as a computer graphics artist.
Although I was living what I considered to be a comfortable life, I felt like I'd somehow gotten disconnected from many of the things I was most passionate about. And, more importantly, I felt like I was no longer fulfilling my potential or doing what I was supposed to. Perhaps being so comfortable was a part of the problem? Rather than live with intention, I'd accepted the path of least resistance.
I read somewhere that "Life begins at the end of your comfort zone" (Neale Donald Walsch). And, admittedly, I wasn't entirely sure what that meant, but I decided, at least for a short while, to explore a life beyond comfort. And that's when my journey began. A journey that turned into the most difficult thing I'd ever committed to. It forced me to face challenges I never expected and it completely turned my world on its side. It changed my life, my relationships, and my view of the world.
In short, it changed everything.
Today, my continuing journey bears little resemblance to what it once was, but I am now a wholehearted advocate of the path less traveled. I use my past and present day experiences as a way to share what I've learned with the world. And when I'm not doing that, I share humor & comics and art & photography
---
About my blogs:
Lessons Learned from The Path Less Traveled™ (zerosophy.com)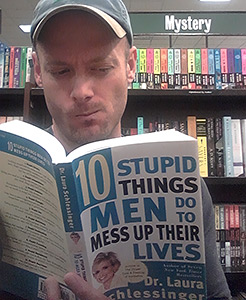 : This is my motivational blog where I write about integrity, non-conformity, fear management, kindness, authenticity, and pushing beyond one's comfort zone as a means for personal growth.
ZeroTalking.com: My entertainment blog where I share the weird thoughts & awkward moments I have along with other (often humorous) real-life experiences.
ZeroDean.Photography: This is my photography services site.
---
Something is wrong.

Instagram token error.
…