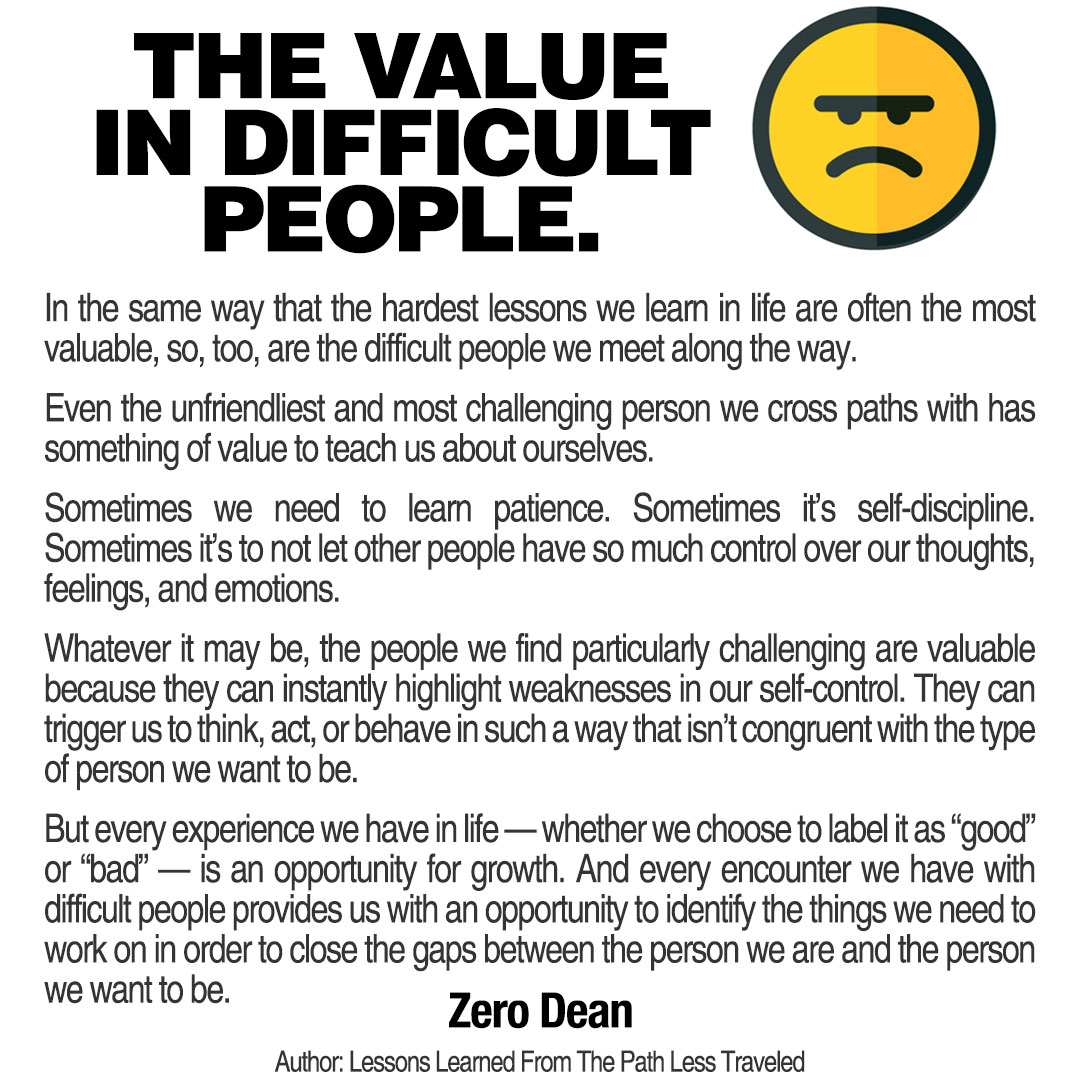 In the same way that the hardest lessons we learn in life are often the most valuable, so, too, are the difficult people we meet along the way.
Even the unfriendliest and most challenging person we cross paths with has something of value to teach us about ourselves.
Sometimes we need to learn patience. Sometimes it's self-discipline. Sometimes it's to not let other people have so much control over our thoughts, feelings, and emotions.
Whatever it may be, the people we find particularly challenging are valuable because they can instantly highlight weaknesses in our self-control. They can trigger us to think, act, or behave in such a way that isn't congruent with the type of person we want to be.
But every experience we have in life — whether we choose to label it as "good" or "bad" — is an opportunity for growth. And every encounter we have with difficult people provides us with an opportunity to identify the things we need to work on in order to close the gaps between the person we are and the person we want to be.
"Between stimulus and response there is a space. In that space is our power to choose our response. In our response lies our growth and our freedom." — Victor Frankl
A key to surviving experiences with difficult people — without being brought to the brink of behaving badly — is to remember that we may not always know what to do, but we can always choose the type of person we want to be.
And, with practice, we can choose to refuse to let others cause us to act in a way that is in direct conflict with the person we picture ourselves as.
And we can create the frame of mind necessary to do this by choosing to see the value in the negative people we encounter in life by actively using our experiences with them in such a way that we become not bitter, but better.
Related:
Originally Published on: Jul 14, 2015 @ 06:42