Hi Folks,
As promised, here's my much-awaited update telling you how to save up to 71% off of Lessons Learned From The Path Less Traveled Volume 1!
As you may know, I gave away $26,000 worth of books for free on April 17th this year. This time around, I'm hoping to make at least a couple dollars for my effort.
If you are one of the people who were able to get a copy of my book for free — and you found value in it — it would be great if you took a moment to leave a review.
Starting on August 1 at 12 AM (PDT) I will be running a 7-day promotion on Amazon.com and Amazon.co.uk.
On day 1 of the promotion, my book will be available for $2.99 (71% off!). The next day, the price will increase to $3.99 and will continue to increase in price every 33 hours until the last day of the promotion on August 7, 11:59 PM (PDT).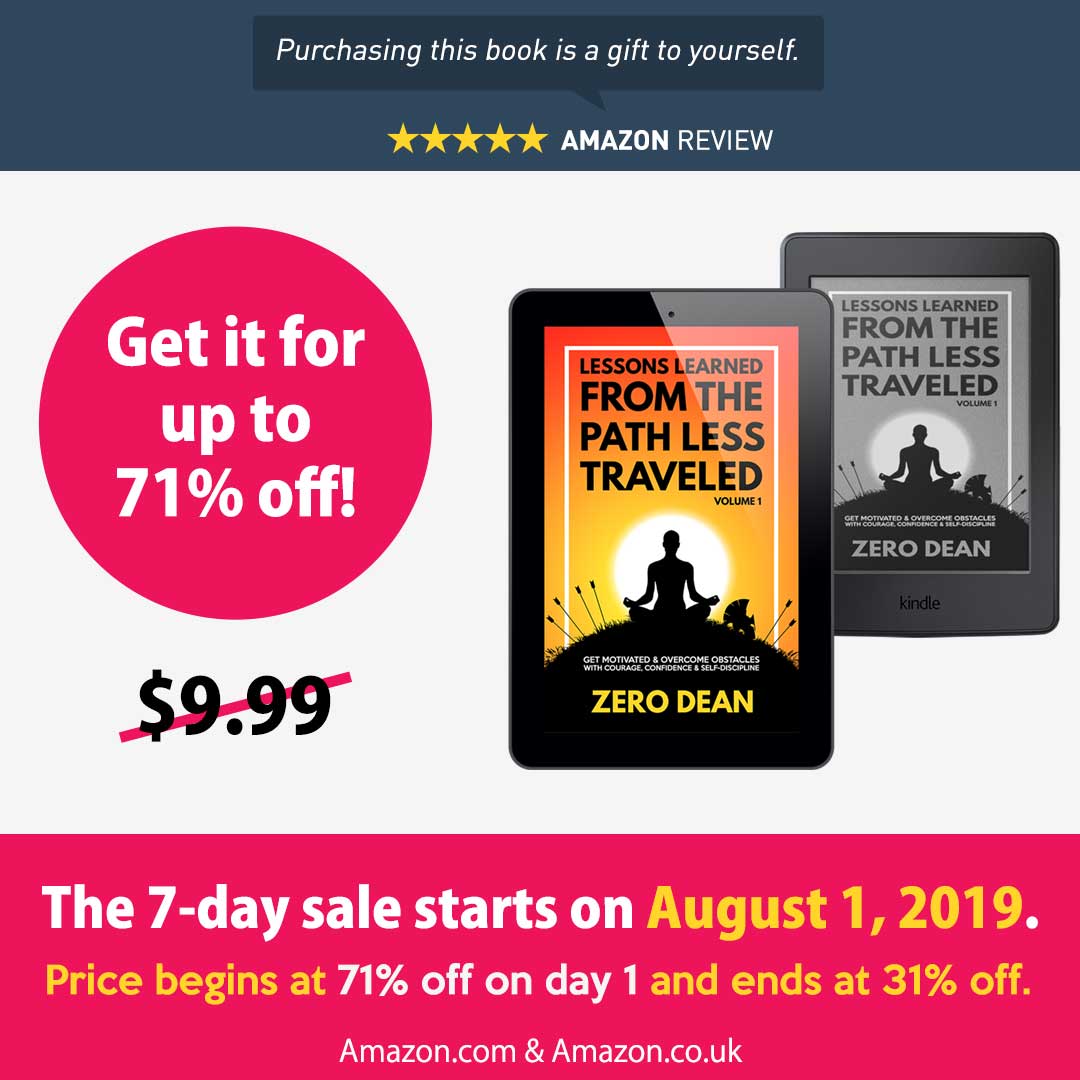 Increment
Duration
Price
% Discount
1
August 1, 2019 at 12:00 AM (PDT)
33h
$2.99
71%
2
August 2, 2019 at 9:00 AM (PDT)
33h
$3.99
61%
3
August 3, 2019 at 6:00 PM (PDT)
33h
$4.99
51%
4
August 5, 2019 at 3:00 AM (PDT)
33h
$5.99
41%
5
August 6, 2019 at 12:00 PM (PDT)
36h
$6.99
31%
End
August 7, 2019 at 11:59 PM (PDT)
$9.99
Other news:
Remember that cross-country trip I mentioned a few months ago? It's still happening. :) I will be traveling across the United States, writing & vlogging about the experience as well as seeking to meet and interview folks for a Youtube video series & podcast and content for a future book. You can see my casting call at: FromThePathLessTraveled.com for more details.
I'm excited to get going! My current estimate has me departing southern California in the first week of August. I'll have much more news about this in the coming weeks.
Until then, if you want to do me a favor, please let anyone you think might be interested in a copy of my book know about the upcoming promotion!
Thanks for reading!
I hope my note finds you having a fantastic day.
Zero