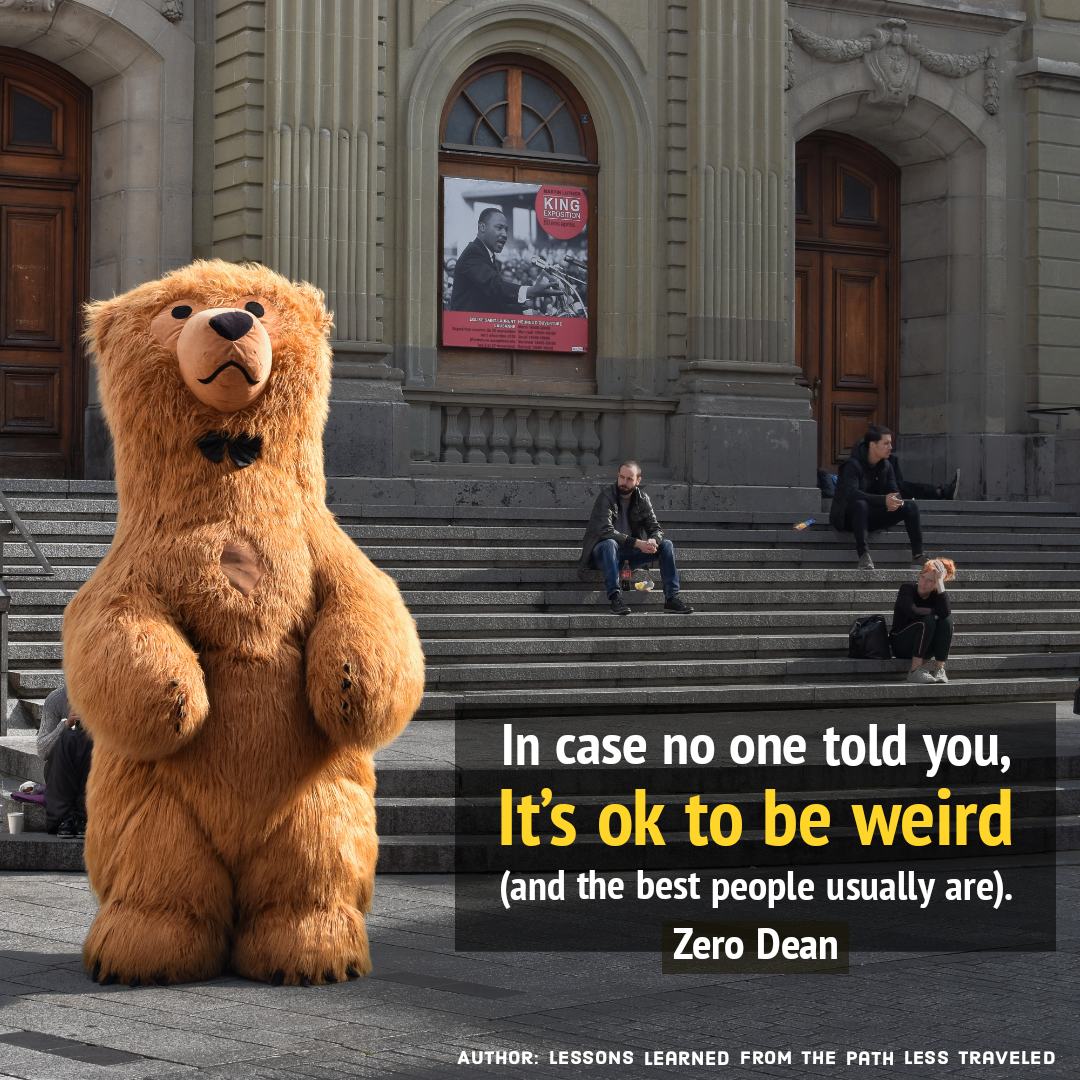 In case no one told you, it's OK to be weird (and the best people usually are).
Being weird doesn't mean everyone will like you. But what's the point of fitting in if you sacrifice your real self to do it? What's the point of fitting in when it still doesn't guarantee that everyone will like you?
And what's the point of being liked when you are being liked for pretending to be someone or something you're not?
Be your authentic self and you will attract people into your life who will like you for being you.
And then you can stop pretending to be "normal" and simply be comfortable with who you really are.
She had blue skin.
And so did he.
He kept it hid
And so did she.
They searched for blue
Their whole life through,
Then passed right by –
And never knew.
[ And let me be clear, celebrating your weirdness doesn't mean being disagreeable. It doesn't mean completely disregarding people's personal comfort or disrespecting individuals or customs or the environment. And it doesn't mean allowing yourself to be totally socially inept. Quite the opposite.
Even if you don't want to conform, it is important to conduct yourself in a way that is compatible with the society in which you find yourself.
Eccentricities can be good. And being quirky can be good. But if "being yourself" means you're an assclown — try to be someone more agreeable. ]
From the comments:
Jackie: I've been told I'm weird since I was in my late 20s. I'm now 63 working on being totally myself before my birthday next month! Weird is wonderful! Weird is wild, wicked, wise, real, delightful, devilish, roguish, reliably funny, and so many other things. Why would anyone aspire to "normalcy"? How flipping boring, don't you agree?
Zero: I do agree. I love the unique things about people that make them interesting.
Of course, not everyone's "weirdness" is compatible with everyone else's "weirdness", but it's still so much better to live life authentically than it is to pretend to be something you're not — or be caught up in trying to be liked for things that just aren't a part of your genuine self.
To live that way is to live a lie.
Jackie: Tried living the lie. Hated it. Decided to be me. Then learned how to be me. Scares the crap out of many folks. Makes me giggle, giddy, goofy, and best of all weird because there is no concentration on "fitting in" or being "normal."
Related: