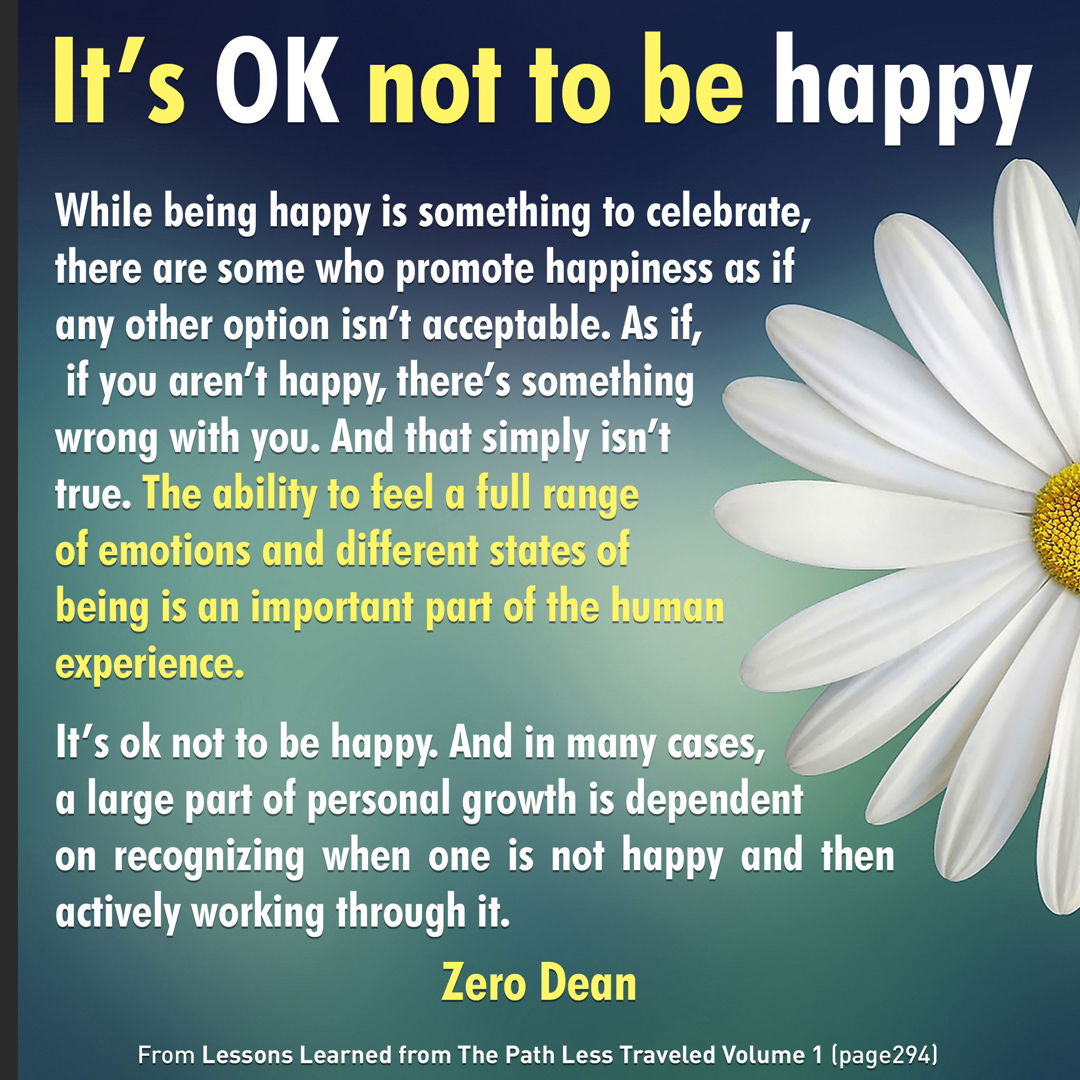 Seen in a meme:
"Nothing is worth it if you aren't happy."
While being happy is something to celebrate, there are some who promote happiness as if any other option isn't acceptable. As if, if you aren't happy, there's something wrong with you. And that simply isn't true.
The ability to feel a full range of emotions and different states of being is an important part of the human experience.
It's ok not to be happy. And in many cases, a large part of personal growth is dependent on recognizing when one is not happy and then actively working through it.
"Discontent is the first step in the progress of a man or a nation." — Oscar Wilde
While it is said that, "Inner Peace begins the moment you choose not to allow another person or event to control your emotions." — and it is a skill and state of being everyone is capable of — it is much easier to talk about inner peace than it is to achieve it.
It takes a tremendous amount of mental discipline to achieve a state of mind in which we are unaffected by the negative events around us. And, like having a fit body is a choice and it's something everyone is capable of, it's not something most people have. Mental discipline takes practice.
Unless one is a Zen master, creating the expectation that being happy at all times is a simple matter of choice, is to set one's self up for what will likely be a difficult task. Because the moment something almost inevitably disturbs your state of being — and you suddenly find that you're not happy — you'll feel as if there's something wrong with you.
But it's ok to feel sadness. It's ok to feel pain. It's ok to feel frustration and anger. Again, these feelings are a part of the human experience.
[*While feeling anger, frustration, unhappiness is ok, it's important to deal with such states in a healthy and productive fashion. And that is beyond the scope of this post. Adopting behaviors that put you or others in harm's way is not healthy — and if you are inclined to do such things, it is important to seek help.]
Telling someone who has just suffered a tremendous loss to "just be happy", "happiness is a choice", and "it's always darkest before dawn" generally isn't helpful (at all).
And while it's ok to want to help people — and it shows you care, it's also ok to let people work through their issues and to just let them know you are there to support them if they need you.
In his book, Transitions: Making Sense of Life's Changes, William Bridges writes, "All transitions are composed of (1) an ending, (2) a neutral zone, and (3) a new beginning." and "The neutral zone provides access to an angle of vision on life that one can get nowhere else. And it is a succession of such views over a lifetime that produces wisdom."
Feeling things other than happiness are an important part of growth. They lead to changes where we often transition from one level of awareness to another.
So it's OK not to be happy. Not being in a constant state of happiness is not unhealthy. But it's important to remember to channel that energy effectively and to not simply dwell on it. Acknowledge it and move on, transitioning to your new beginning.
And as you transition from one level of awareness to another, if you make a conscious effort to practice mental discipline and choose where to focus your mental energy, you may just find the inner peace so many wish they had, but never put in the effort to achieve.
"Even a happy life cannot be without a measure of darkness, and the word happy would lose its meaning if it were not balanced by sadness. It is far better take things as they come along with patience and equanimity." — Carl Jung
"Refuse to emotionally succumb to the negative events around you and tap your mental toughness to thrive in any environment. The good guy doesn't always win and justice doesn't always prevail, but where you direct your mental energy will always determine your attitude and it will always be controlled by you." — Steve Siebold
Related:
From the comments:
Eric: Very good piece. Whole books could be written about what the word 'happiness' even means. Probably there already are such books.
But in short, for me, I try to draw a distinction nowadays between being happy and being 'at peace' or 'contented'. I am much more at peace nowadays, but I'm not always 'happy'. I value peace much more than happiness (although peace is for me often the conduit to happiness).
Zero: Yeah, I agree with you. I think that's a great distinction. I used to think I knew what happiness was — I had a mental picture of it. But it's changed. It looks more like contentment and "inner peace"…
Just because you don't have a smile on your face, doesn't mean you're not happy. But just because someone is smiling, doesn't mean they're happy.
There's a sort of congruency and balance that needs to be in place… and that creates a sort of "emotional calm" or satisfaction (I'm not sure what to call it).
Kitt: (twitter) Similar words in The Antidote: Happiness for People Who Can't Stand Positive Thinking, by Burkeman