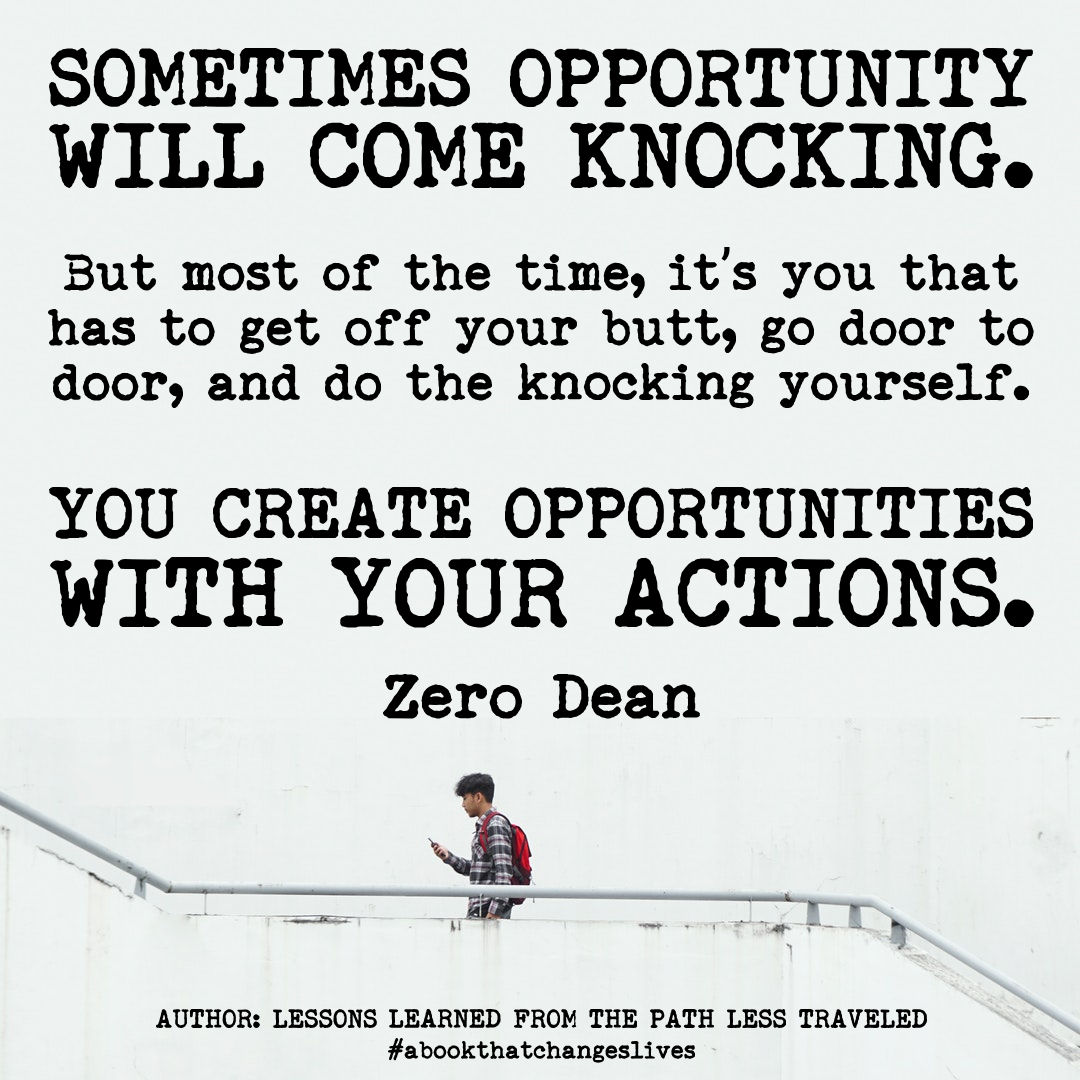 Eleanor Roosevelt once said, "The future belongs to those who believe in the beauty of their dreams." It's a nice quote, but it's missing something vital — an element of action.
You can't just sit around believing in the beauty of your dreams or hoping opportunity will show up at your door. That's not how opportunity works. That's just wishful thinking.
The quote would be more complete if it ended with "and take action to make them a reality."
We don't so much attract opportunities out of the blue as we create them by taking action. So when you say or think, "I have no opportunities." (and, be careful with the kind of thinking), it's important to make sure you are not just sitting around thinking, "I've done my work.", "I have my degree.", or "I've tried everything." and now simply waiting for an opportunity to come calling.
"They always say time changes things, but you actually have to change them yourself." — Andy Warhol
Yes, sometimes opportunity will come knocking. But most of the time, it's you that has to get off your butt, go door to door, and do the knocking yourself.
You create opportunities with your actions. Every day you that sit around saying you have no opportunities is a day full of opportunities wasted.
"I know of no more encouraging fact than the unquestionable ability of man to elevate his life by conscious endeavor." — Henry David Thoreau
If you want more opportunities in your life, one of the most effective ways to create them is by either focus on bettering yourself in some way or by taking the time to help solve someone else's problem.
The world is full of people who are trying to solve a problem — be it large or small — that you may be able to help find a solution to. And by making yourself more open to assisting others, you open up a whole new world of potential opportunities as a result — and you create a tremendous amount of goodwill in the process.
"You can have everything in life you want if you will just help enough other people get what they want." — Zig Ziglar
As for bettering yourself, people who are committed to excellence know that there is always room for improvement.
From improving a set of skills to expanding your knowledge, doing career-related research, focusing on your health or fitness, nearly everything you do to actively improve yourself will reap benefits and opportunities in your life.
While you may not always see results right away, no amount of effort you expend to improve yourself in some meaningful fashion is ever wasted.
And this is certainly more productive than sitting around saying you have no opportunities.
"Don't let what you can't do stand in the way of what you can do."
Originally Published on: Sep 7, 2014 @ 15:20
Related: