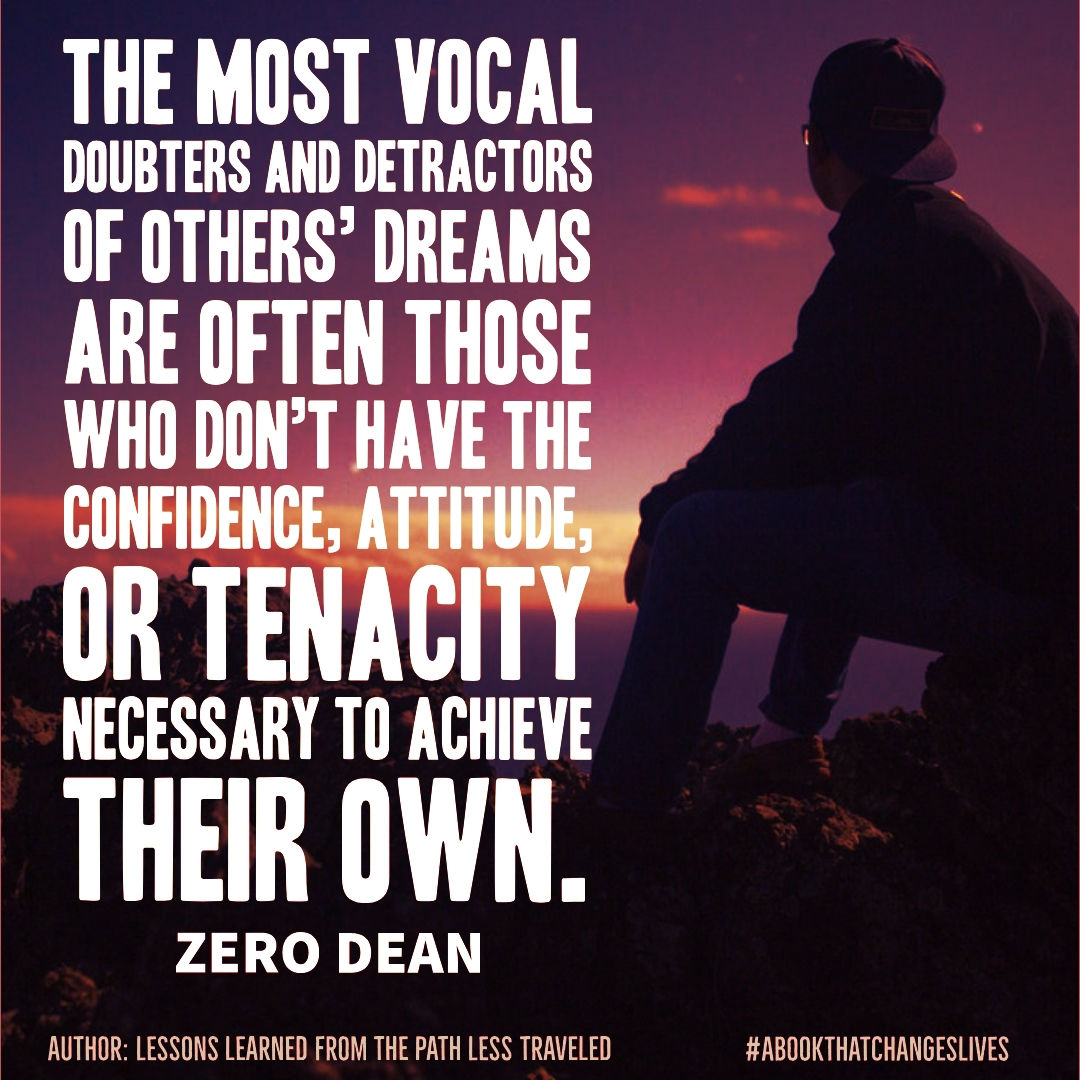 Anyone who ever attempts to achieve a lofty goal in life will nearly always have to deal with people who try to deter them from achieving their goals.
Whether one encounters true haters or simply well-meaning people offering what they consider to be reasonable play-it-safe advice, it may be helpful to know that the most vocal doubters and detractors of others' dreams are often those who don't have the confidence, attitude, or tenacity necessary to achieve their own.
"Don't let someone who gave up on their dreams talk you out of yours."
It's not achievers who spend their time trying to steal other people's dreams, it's those who gave up on achieving their own — or worse, never tried.
It is the people who repeatedly set and struggle to achieve lofty goals in life that are often the most vocal cheerleaders for others who wish to do the same.
Because anyone who has ever struggled to achieve anything great knows that the journey to accomplish worthy goals is often fraught with hardship. Achievers know from experience that great tasks often appear improbable — or even impossible — before done.
So don't waste your time worrying about the doubters who don't believe in what you're working to achieve.
Disregard those who find it necessary to point out your mistakes or failures without offering solutions.
Refuse to engage with people who seek to scare you from your chosen path by pointing out all of the things that could go wrong along the way.
And resist the urge to repeatedly explain your goals to those who refuse to understand them.
You don't need the permission, approval, or understanding of others to achieve great things.
When you receive advice or criticism, be sure to consider its source. Those who know what it means to set lofty goals and struggle to achieve them will offer far more sage advice than those who don't.
And when in doubt, consult your inner voice.
"Don't let the noise of others' opinions drown out your own inner voice." — Steve Jobs
Originally Published on: Aug 6, 2015 @ 06:05
Related: