---
Get an advanced copy of my new book. Details here...
---
You can find the following information (taken directly from my book) on book details page. There is also a PDF file available to get a sneak-peak at the layout and additional contents.
What

this book is

Who

this book is for
What this book is

not

The personal element
For your consideration
Your feedback is welcome
Author's confession
HOW TO READ THIS BOOK
Choose your own adventure
Contemplate the content
If it doesn't challenge you it doesn't change you
Repetition
PROLOGUE
Who is this person?
Catalysts of insight
Labels shmabels
Motivational blah blah
Be
in

the book

The latest details about this opportunity will always be listed at zerodean.com/book.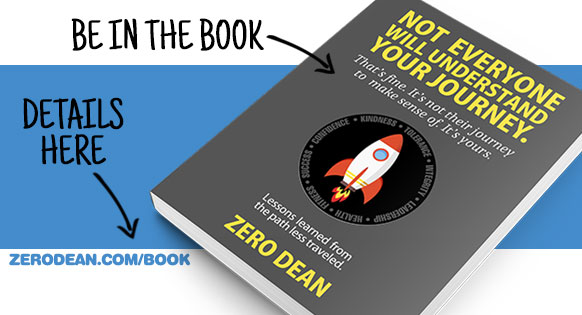 For a chance to be included in my book (with credit, of course), simply answer the following question:
What is one of the most significant, powerful, or important lessons you've learned in life? (And how has it made a difference in yours). If it helps, consider the book's topics listed below.
Topics covered include: Attitude, gratitude, kindness, confidence, authenticity, tolerance, leadership, success, failure, happiness, living beyond comfort, integrity, health, fitness, wellness, communication, relationships, personal responsibility, and more.
The most fitting answers will be included on the *chapter heading pages (24 in total). *Or most appropriate spot as determined. If your words are chosen, I will contact you with more detail. To provide your answer, you can contact me in any means that works for you — but here's my contact page.