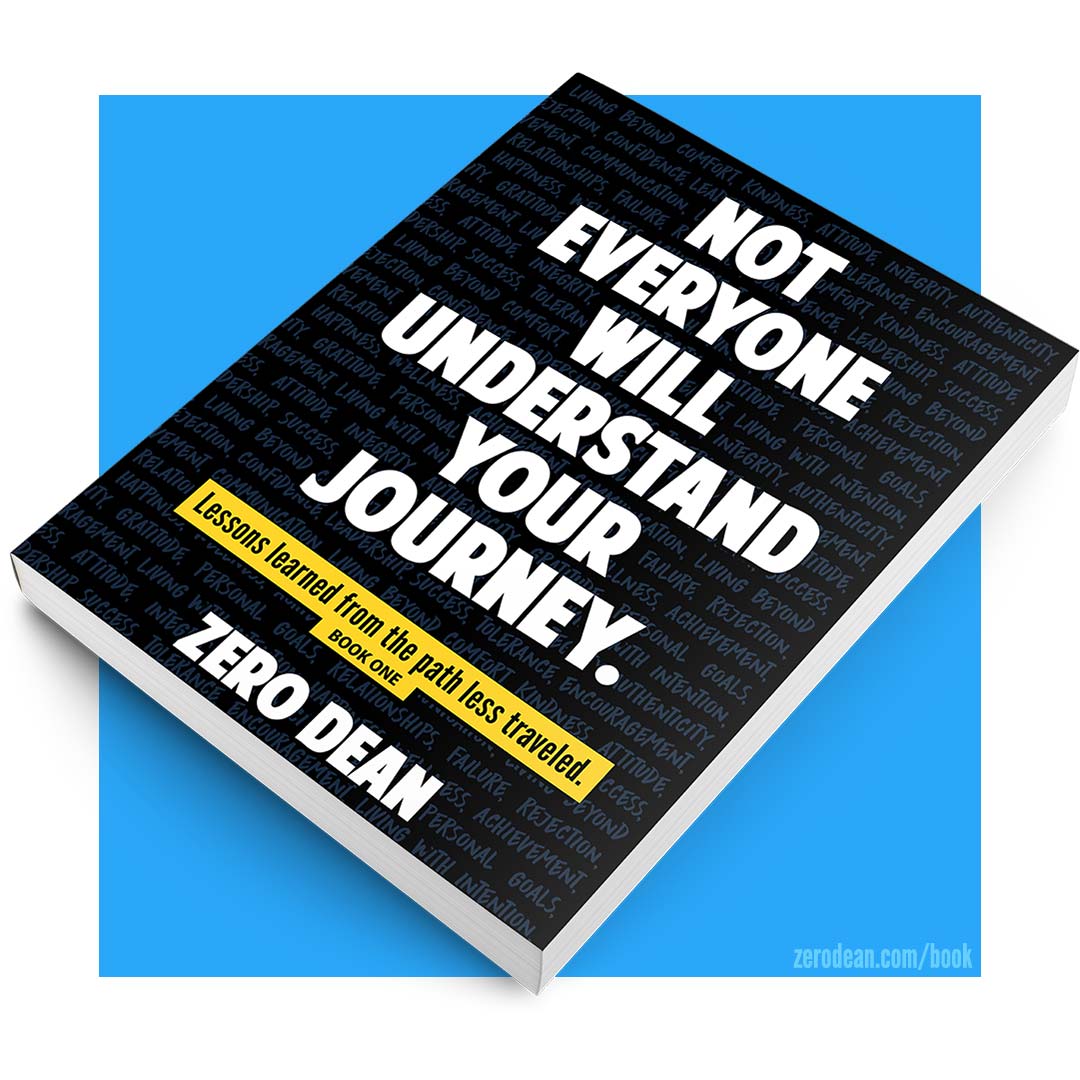 What it is:
A book of lessons, encouragement, food for thought, and strategies to help readers cope with and overcome life's challenges.
There's also a personal element to the book that helps bridge the gap between the author's journey and the lessons shared.
Topics include:
Attitude, gratitude, kindness, confidence, authenticity, tolerance, leadership, success, failure, happiness, living beyond comfort, integrity, health, fitness, wellness, communication, relationships, personal responsibility, and more.
Details at a glance
Estimated mainstream release date: Print edition: September 2016 | Digital edition: To be determined.
Formats: 6″x9″ trade paperback and an ebook edition.
Number of pages: Approximately 430-450 pages.
Price: Print edition: $24.95 | Digital edition: To be determined. (Due to how this book is formatted and designed to be read, the print edition is recommended over the digital edition.)
People who buy an advanced copy of the print edition will also receive a complimentary digital copy for e-readers upon request.
Let me be frank…
At *$25 dollars, this is not a cheap book. I know this. And I wouldn't blame anyone for scoffing at the cover price. Having said that, I sincerely believe it's worth it. If this book has as much of a positive impact on your life as I believe it has the potential to, I think you'll find it to be of far more value than what you pay for it.
*I should also point out that of those $25 dollars, I earn roughly $10. The rest goes to printing, supplies, and related services.
I truly want this book to change your life for the better.
I cannot claim that this book will change your life for the better, because the fact is, it may not. But I can promise you that if it doesn't, it isn't from a lack of effort in trying to write a book that will.
Not only is this book over 400 pages, it is densely packed with as much substance as possible. Unlike some books, I don't take a chapter to say something that can be wrapped up in a single paragraph.
I've tried to make every sentence, paragraph, and piece as potent as possible given my current level of understanding and my current skill as a writer.
Also, this is not a book that you read once, get pumped up about its contents, and then forget about. Not Everyone Will Understand Your Journey is a sort of reference book that you can dip into repeatedly over time — years, even. And I hope that you will.
---
Be one of the first to get it & receive an extra copy:
Before my book is made available through major channels,
I will be ordering an allotment of books (based on interest) to personalize (I will sign them and/or inscribe them and/or create a personalized doodle just for you) and ship directly to readers.
These books will come directly from my hands to yours.
In addition to receiving an advanced copy before it's available anywhere else, everyone who orders from the first allotment of books will also be entitled to a complementary digital edition — to keep or give away — when available.
---
To get on the waiting list for an advanced copy use the form below. This will allow me to email you details/instructions when I'm ready.
Getting on the waiting list is obviously not an obligation to buy the book. What the waiting list does is allow me to make sure I order enough books for my own inventory to personalize and ship out to those who are interested. Unless you show up at a book signing, this will likely be the only opportunity to get a personalized copy. And it will certainly be the only opportunity to get one of the very first copies ever sold.
IMPORTANT: After submitting this form, you will receive an email requiring you to confirm your interest. If you don't receive an email, check your spam folder and/or send an email to contact.zerodean @ gmail.com (no spaces) and you'll be manually added to the waiting list.
---
---
You can find the following information (taken directly from my book) on book details page.
WHAT YOU SHOULD KNOW ABOUT THIS BOOK
What this book is
Who this book is for
What this book is not
The personal element
For your consideration
Your feedback is welcome
Author's confession
HOW TO READ THIS BOOK
Choose your own adventure
Contemplate the content
If it doesn't challenge you it doesn't change you
Repetition
PROLOGUE
Who is this person?
Catalysts of insight
Labels shmabels
Motivational blah blah
---
QUESTIONS:
Q: What is the status of your book?
A: [Last updated: July 17, 2016] For all intents and purposes, the book is print-ready. All the content of the book has been compiled, organized, and edited at least once. The book is currently going through the editing process to make it as powerful and polished as possible.
Q: Is it just a collection of work you've already shared?
A: While there is new content spread throughout the book, a large portion of the content has been previously posted online. If you have a favorite piece of work of mine, it's probably in my book. Do keep in mind that everything in my book has been or is in the process of being updated, edited, or completely overhauled where necessary.
Q: Is it a book of quotes?
A: No. It consists of pieces (covering the topics listed above) of varying lengths. Some pieces are several pages long and others only a paragraph. Any "quotes" of mine that you see in memes (examples below) are nearly always excerpts from longer pieces.
Q: Will it be available for the Kindle (and other e-readers)?
A: Yes, just not initially. As this is designed more like a reference book you dip into from anywhere — and not something one reads from one cover to the other — it's best consumed via the print edition where readers can open the book to a random page to consider its contents.
---
---