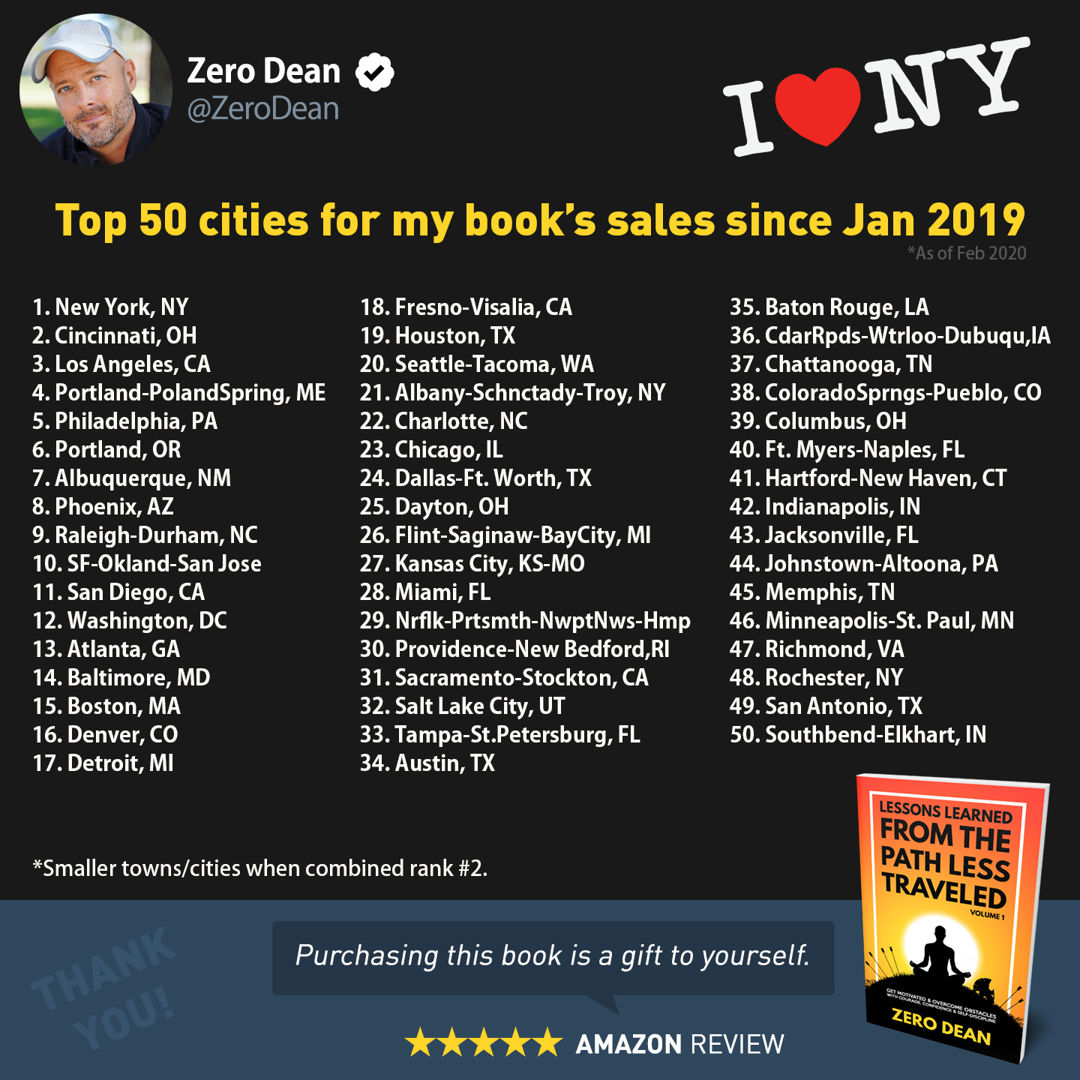 I'm sure this is nowhere near as interesting to you as it is to me, but I accidentally came across my "book sales by city" data and am rather surprised by some of the results.
If you bought my book, is your city represented?
Also, HELLO NEW YORK! 🤘🏻🔥💛🤗
And if you're one of the people who has bought my book — or you're thinking about it — THANK YOU.
My book's sales by city (Jan 2019-Feb 2020)
1. New York, NY
2. Cincinnati, OH
3. Los Angeles, CA
4. Portland-PolandSpring, ME
5. Philadelphia, PA
6. Portland, OR
7. Albuquerque, NM
8. Phoenix, AZ
9. Raleigh-Durham, NC
10. SF-Okland-San Jose
11. San Diego, CA
12. Washington, DC
13. Atlanta, GA
14. Baltimore, MD
15. Boston, MA
16. Denver, CO
17. Detroit, MI
18. Fresno-Visalia, CA
19. Houston, TX
20. Seattle-Tacoma, WA
21. Albany-Schnctady-Troy, NY
22. Charlotte, NC
23. Chicago, IL
24. Dallas-Ft. Worth, TX
25. Dayton, OH
26. Flint-Saginaw-BayCity, MI
27. Kansas City, KS-MO
28. Miami, FL
29. Nrflk-Prtsmth-NwptNws-Hmp
30. Providence-New Bedford,RI
31. Sacramento-Stockton, CA
32. Salt Lake City, UT
33. Tampa-St.Petersburg, FL
34. Austin, TX
35. Baton Rouge, LA
36. CdarRpds-Wtrloo-Dubuqu,IA
37. Chattanooga, TN
38. ColoradoSprngs-Pueblo, CO
39. Columbus, OH
40. Ft. Myers-Naples, FL
41. Hartford-New Haven, CT
42. Indianapolis, IN
43. Jacksonville, FL
44. Johnstown-Altoona, PA
45. Memphis, TN
46. Minneapolis-St. Paul, MN
47. Richmond, VA
48. Rochester, NY
49. San Antonio, TX
50. Southbend-Elkhart, IN
*Smaller cities when combined rank #2